5 Best Zoom Alternatives For Video Conferencing in 2022 : Coronavirus or COVID-19 is right now a national threat, and it's spreading like a fire. If you are living in India, then you might know that the entire country is currently undergoing the 21-day lockdown.
Tech companies around the world have already started implementing work from home policies, increasing the need for free video conferencing services. Right now, there are hundreds of video conferencing services available out there, but out of all those, Zoom is the best one.
Zoom is one of the best and most used video call apps available out there. It's a free tool, and it provides users an easy way to set up calls for business and individuals. However, Zoom's services got some serious security and privacy flaws, and this is what motivates users to search for its alternatives.
5 Best Zoom Alternatives For Video Conferencing in 2022
So, if you are looking for some good Zoom alternatives, then you are reading the right article. In this article, we have shared some of the best Zoom Alternatives for video conferencing in 2022.
GoToMeeting is one of the best and leading video conferencing services out there. It's a premium video conferencing service out there with support for all the platforms. Although it's a premium tool, it does offer a free 14-day trial. If we talk about the features, GoToMeeting offers screen sharing, Zoom calls, etc.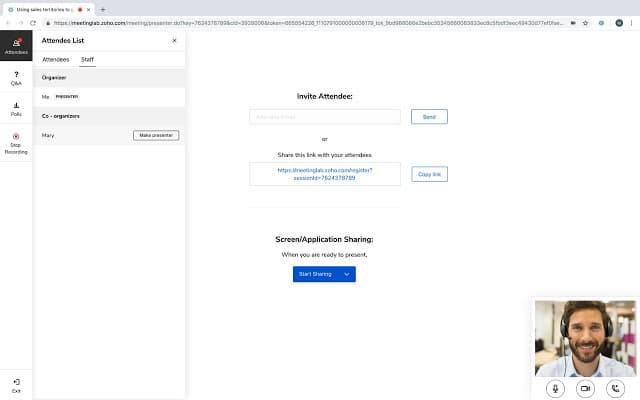 Zoho has lots of web-based services, and Zoho Meeting is one of them. It's a video conferencing service ideal for webinars and online meetings. Unlike GoToMeeting, Zoho Meeting does have a free plan, but with limited features. Depending upon your needs, you can subscribe to a premium package. Some of the key elements of Zoho Meeting includes group chats, recording meetings, control over participants' audio and video.
Cisco Webex Meetings has everything that you need to fulfill all your communication needs. It doesn't matter if you have a small-scale, mid-scale, or large-scale business, Cisco Webex Meetings can arrange meetings for all. Under the free plan, the sessions were limited to only 40 minutes. The limitations and audience limits can be lifted by subscribing to a premium plan.
Well, it's a part of G-Suite, and it's pretty much popular amongst commercial companies and businesses. It could be the best alternative of Zoom because it shares lots of similarities with it. Under the free plan (meetings), you can add up to 250 users for text, voice, and video chats. To commence a session, all users just need to sign in to their Google account.
Skype is for those who have been searching for a reliable alternative for calling up to 50 people; then Skype might be the best pick for you. It has cross-platform support, and the good thing is that it's free. The track recording of Skype is much superior to Skype, especially on the Security and privacy front. Apart from meetings and video calls, Skype also allows screen sharing and screen recording.
So, these are the five best Zoom alternatives in 2020 that you can use today. If you know any other such tools, let us know in the comment box below. I hope this article helped you! Share it with your friends also.